Tips for Improving Your Car-Buying Experience
If you are avoiding looking for a new car because your past car-buying experiences were not enjoyable, you are not alone. The number of financial decisions that need to be made, the pressure of choosing a vehicle before you leave a dealership, and sometimes the confusion of being shifted from person to person can keep many of us in the same vehicle long after we might want an automotive refresher. Many aspects of the car-buying process are outside of our direct control, but there are steps you can take to make your experience better.
Resolving Basic Questions Simplifies the Process
The first area you control is how you pay for the vehicle and how much you want to spend on it. Getting pre-qualified for an auto loan before you go shopping takes away one major area of confusion and concern during the actual purchase of a vehicle. An additional benefit is that you will be able to negotiate from the position of a "cash buyer" and take advantage of dealer incentives available to buyers who don't use the dealer financing. Knowing how much you want to spend on the vehicle to get the monthly payment you want ahead of time allows you to focus on finding the vehicle you want.
Even more important? Understanding why you want a specific kind of vehicle is crucial to making the best decision for you, and to having a positive shopping experience. Take the time to work out why you want a particular vehicle, who it is meant to transport, how often, how far, and for what kind of extra trips. All of those things may seem to be inherent to the idea of buying any vehicle, but each model may solve your needs in a different way.
After working out what you need your car to do most, you are at the stage of considering the look you want. Online resources are truly the game changers when it comes to finding what your options are.
Research Tools: Reviews, Car Values, and More
Consider these resources to help you research and even shop for your next car or truck.
Looking for auto loan calculators? Wish to learn about guaranteed asset protection (GAP) or mechanical breakdown protection (MBP)?
A great resource for unbiased reviews of cars and trucks to help you make an informed decision about the make and model you want to shop for.
If you are shopping for a used vehicle, Carfax is a powerful tool to see a vehicle's history and avoid problems.
Once you have a set of three to five options, you can take test drives. Having more than one vehicle to road test may seem redundant, but it increases your ability to be objective, and not leave you feeling like any one vehicle is an "all or nothing" decision.
Visit Dealerships without Pressure
A considerable number of dealerships now have "internet sales managers." Whether they sell directly through the Internet or not, dealerships are recognizing that the new era of car-buying is upon us, and some are taking steps to make their car inventories a bit more transparent to potential buyers. Some even offer internet specials.
If you are ready to take a test drive, contact the dealer through the ITCU TrueCar site or call and ask for the internet sales manager. You can talk to them to see if they have the particular model(s) you want in stock, so you can test drive just the vehicles you are interested in that meet your needs. If they don't, be sure to ask the sales manager if there is a different vehicle that matches your needs better than the one you just tested.
This is where the dealer expertise is so valuable. You are the expert in what you want and need, and they are the expert in what their brands offer. Your homework sets you up to cut out the extraneous guesswork, to streamline your choices. If they do not have what you are after, it is easier for you to move on, and test drive other vehicles on your list.
Make Your Car Buying Decision with Confidence
Online tools have made finding a car easier, and you should also find the process of getting an auto loan has become a lot easier, as well. Your credit union has an online application process to make the financing process quicker and easier than the paper-based process that may require completing multiple forms by hand.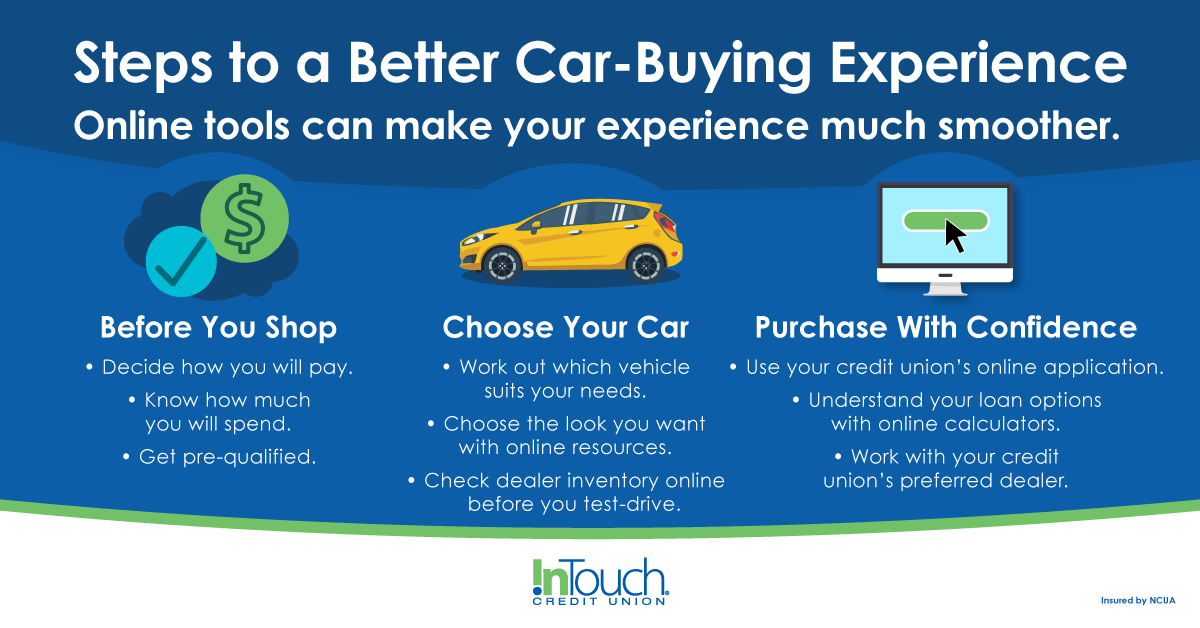 Also, with the variety of online calculators on the ITCU website, you can break down your potential loan by term, incentive, interest rate, and more, to decide how you want your loan structured before you talk to a dealer. This cuts out the possibility of getting sucked into the "how much of a monthly payment are you looking for?" conversation trap.
Your car buying experience can be so much smoother than it was in the past. Online tools and capabilities have broadened the reach of the buyer, allowing you to find and sort through the options that mean the most to you without feeling pressured to jump into a deal before you feel fully prepared. Your credit union offers a variety of services to help make car-buying a more enjoyable and rewarding experience.
Helpful Auto-Related Articles