In the middle of an economic downturn, it is common for auto dealerships to put some really eye-catching deals out to create car buying interest. Zero-percent auto loan financing may be a really good deal on the face of it, but there are some things to consider that may actually net you a better deal.
Very Long-Term Thinking
If you are looking at one of the newer, 84-month (seven year) auto loan terms that the major automakers are offering right now, it pays to look at how a long loan term works out with an automobile. When you buy a car, it depreciates immediately, leaving you upside-down (you owe more than the car is worth) on your loan right from the start. The longer your loan term, the less you are paying down, month after month. So, you potentially will own a car that is worth much less than you owe on it for the life of the loan.
Another serious consideration is whether the car of today is the car of tomorrow. Are you prepared to own a car for long enough to make a 7-year payoff worthwhile, or will you want a change before then? The old wisdom of changing cars out every 3 years no longer applies, as Americans are keeping their cars more than 6 years, on average. While loan terms may be a driving factor for that increase, it doesn't follow that life and yesterday's vehicle are still compatible. If your life circumstances or goals are likely to take a major shift in the next 7 years, then some serious thinking may be in order.
Another Road to Consider
A less obvious path to buying a car right now may be getting a conventional car loan with your credit union and taking a larger automaker's rebate for the purchase. If you enter the purchase price, rebate, and interest rates of several loans into the InTouch Credit Union Auto Loan Calculator, you can test a variety of options without any pressure to make instant decisions.
Visit area dealer sites for current rebate offers and use our loan comparison tool to see how zero percent offers compare to a low-rate InTouch auto loan.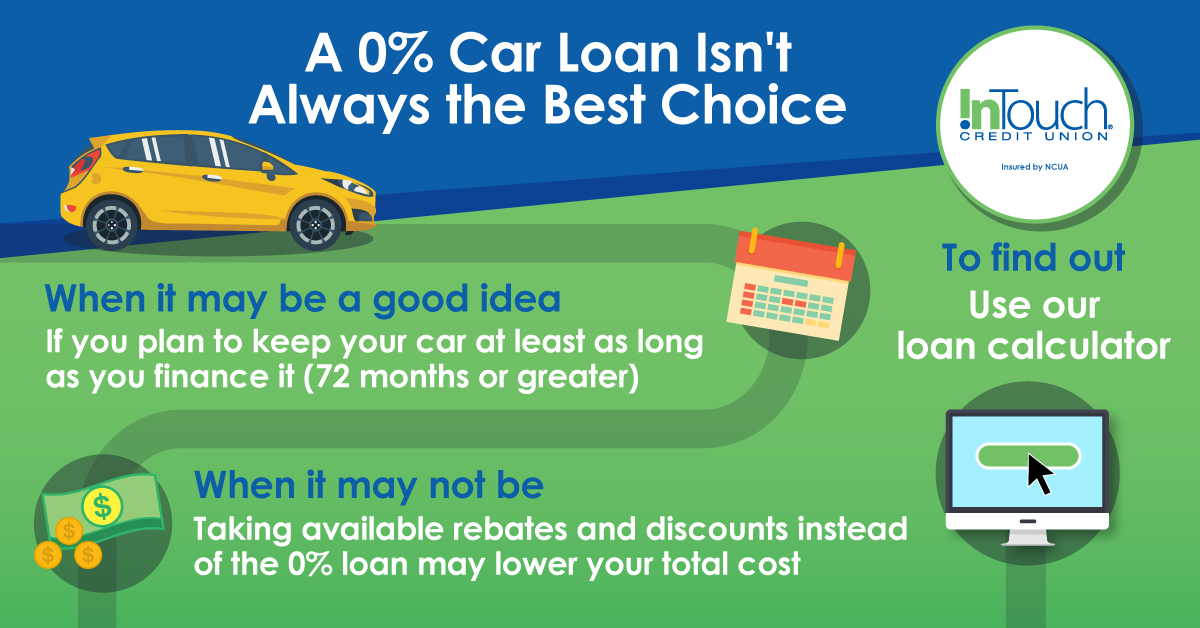 For example, a $35,000 zero-interest loan would actually cost more than a 2.9 percent loan if you received just 10 percent off the purchase price in rebates and other incentives. It is a big help to know the math you need to decide whether a smaller payment over a longer term or a slightly higher payment with the quicker payoff works best for you.
When you are seriously considering purchasing a new auto, it is always a good idea to shop with a pre-approved loan from your credit union in hand. Taking a pre-approved loan with you when you shop, whether you are shopping online or in person, you have the leverage to make the best deal for your situation. Increasing your options serves you well and helps you to land just the car you were fishing for.