While carrying a certain amount of debt is both common and sometimes even advised as a way to build credit, it can readily spiral out of control. When you are balancing credit cards, multiple loan bills, and possibly student loans, the convenience of having one bill to pay may appear to be the best possible answer. But choosing the best loan for debt consolidation can be very confusing. As with all things financial, there are several factors to consider before you jump into debt consolidation.
What Type of Debt is a Good Candidate for Consolidation?
The point of debt consolidation is to roll debts that you already have into a single payment. This may be a good idea if you have several loans, especially high-interest credit cards. Debt that you can pay off in a term shorter than the consolidation loan is probably not the best choice. If you could just bite the bullet and live lean for less than a year, you could free yourself from the loans without incurring the fees that some debt consolidation loans carry.
If you are carrying a low interest loan, such as some student loans, then you might not be able to get an interest rate that low, and you would end up paying more over the long run. Be sure to use a debt calculator before you choose, so you can see what your potential savings (in interest or time or both) could be.
Try Out Some "What Ifs" With Our Calculators
This overview provides just the basics of each program. InTouch has mortgage loan officers that can help you find the program that best meets your needs.
Choosing a Debt Consolidation Loan
There are two things that make a debt consolidation loan a solid choice. The first is knowing that you will ultimately save money by consolidating. And the second is making sure that you won't get back into debt. The first requires a bit of math, and a trusted financial partner.
When you look at offers for debt consolidation, the leaders in the ads will emphasize things like low rates. However, be sure that you look carefully to see which debt can be consolidated, how long the rate stays low, and carefully calculate and compare different total loan costs based on the term, the initial loan amount, and the lifetime interest rate of each loan option.
For example, a popular debt consolidation choice, home equity loans, often offer a lower interest rate than unsecured personal loans. However, the interest savings may not be realized if you spread repayment over a longer period than you would have to if you used a 36- to 48-month personal loan. Again, try out our calculators for help comparing your options.
Be sure to choose your financial institution carefully because having a trusted partner makes a world of difference. While a loan calculator will help you to see if you have found a good match financially, it is hard to gauge the trustworthiness of a many online options. In the case of a debt consolidation loan, using a local lender makes a lot of sense. When it comes to setting up the loan or dealing with any problems over the life of the loan, having a branch office nearby to visit for help rather than relying on online or phone support can be a big stress reliever.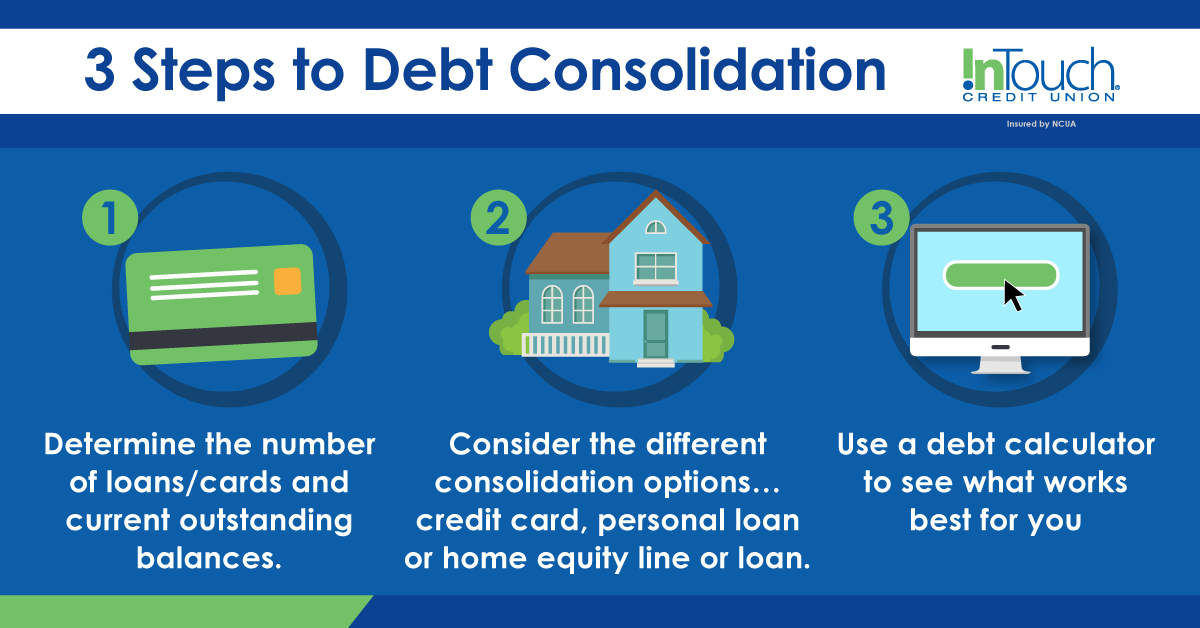 Set Yourself Up for Long-Term Success
The second important consideration is understanding what you can do to avoid future debt. Budgeting is the best way to know that your income will consistently cover your current living expenses and a consolidated debt payment. InTouch's Online Banking provides Money Management, a suite of free tools that can help you set budgets and goals and track spending. If you don't use Money Management, there are many other personal finance apps available for Android™* and Apple® devices.
Done well, consolidating debt can be a major convenience. You have a trusted partner in InTouch Credit Union, so you are already a step ahead. Bring your questions to a branch or check out our loan options online.
(*Android is a trademark of Google LLC.)