It is a well-known phenomenon: you are in the market for new wheels, so you start to see cars for sale all around you. Many low mileage vehicles can be found for sale that are not on dealer lots, but how do you go about buying a car from a private party if you do not have the purchase price in cash? A private party auto loan from your credit union might be just what you're looking for.
What to Know when Buying from a Private Party
Buying from a private party can often be a less expensive option than buying from a dealer, but you will want to do your research before you jump in. Begin by running the numbers through the Auto Loan Calculator to get an initial picture of your likely monthly payments. Be sure to check the current interest rates, as well, since we consistently offer very favorable rates to our members.
Try Out Some "What Ifs" With Our Calculators
InTouch Vehicle Payment Calculator
InTouch Vehicle Affordability Calculator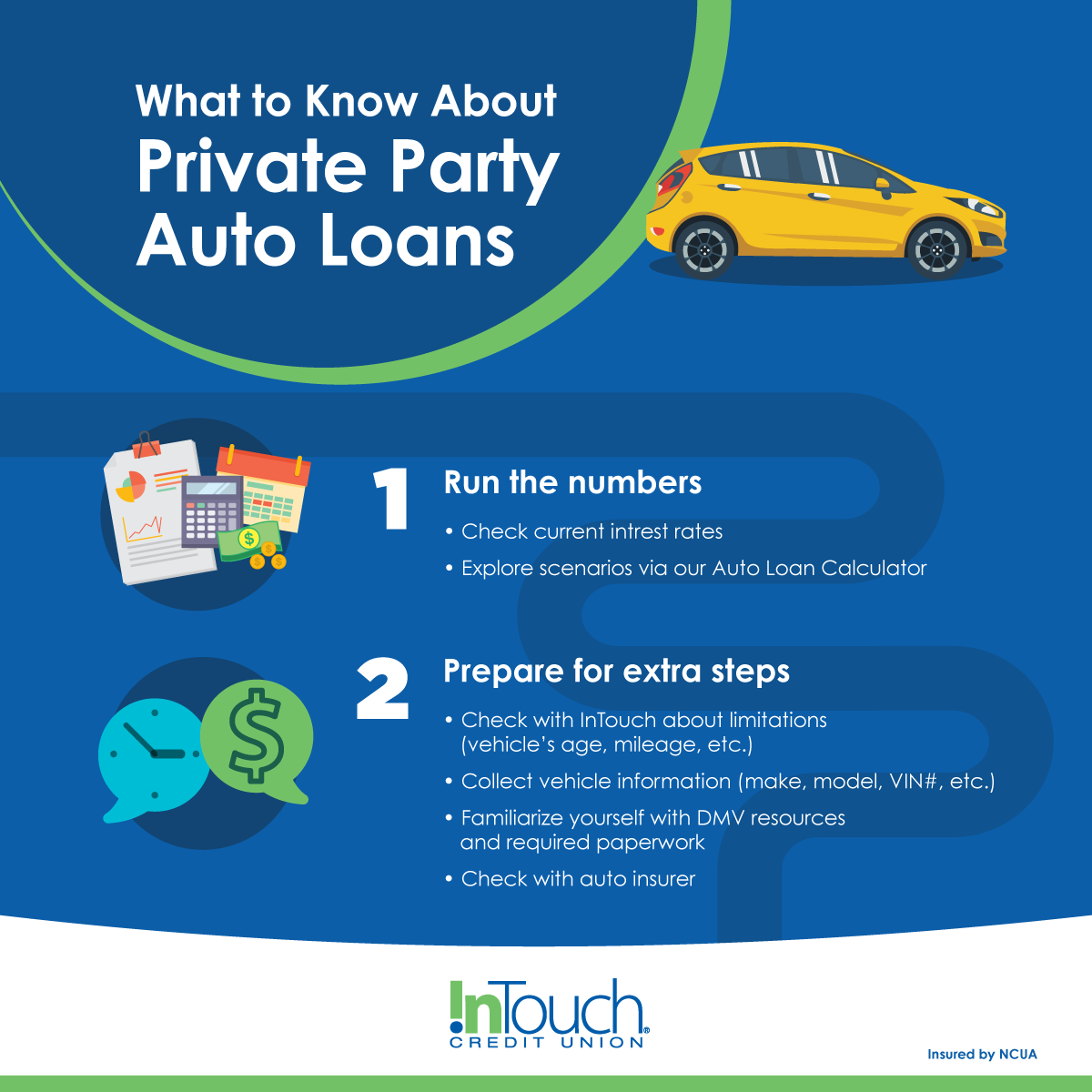 The Private Party Auto Loan
While a private-party auto loan works just like any other auto loan, there are often a couple extra steps you will need to take to be sure you get it all done properly. For example, you should check with InTouch to make sure that you are clear about any age and mileage limits on used car loans that may affect your rate or amount you can finance.
When it comes time to purchase, you will have to provide extra information about the vehicle that would usually be supplied by a dealer. This includes make, model, year, mileage, and the vehicle's unique vehicle identification number (VIN). As with every used vehicle, it is always a good idea to have the car checked out by a trusted mechanic who can also help you capture this information if you are not sure of where to find it.
At this point you might be thinking that it would be easier to get a personal loan, but there are good reasons to use loans specific to vehicles. The main reason is that personal loans are often unsecured, while an auto loan is secured with the car as collateral, so the rate and terms can be much more favorable.
Private Party Purchase Paperwork
Do you know what your state requires to transfer the title and registration for a privately purchased vehicle? Get familiar with your state's Department of Motor Vehicles or Secretary of State. Most states have handy, online resources, including printable forms, such as bill of sale, temporary tags, documentation checklist, etc. Be careful to get the paperwork in order. It might be inconvenient to go back to the seller for signatures or other information after the fact.
Check with your auto insurance provider, as well, to understand your responsibilities for alerting them to your new purchase, so you know that you are covered as soon as you take possession. Lastly, be sure you know how the loan will be paid out (a check disbursement to the seller directly, for example). That will save you from having to wonder how you will actually make the exchange of payment for the vehicle.
Get Rolling with Your Private Party Auto Purchase
When you are ready to roll, check in with InTouch Credit Union. We want to make sure that you have the information you need to drive the vehicle that you want.
Helpful Auto-Related Articles