Understanding the Challenges of Financing a Vacation Home
The American Dream may be owning a home, but a major part of the American success story for many is owning a second home just to vacation in—a second home-base, where the everyday cares just do not have the same grip on our time and energy. A place to feel at home, but a place that makes our hearts race. Does your success story find you at the beach? Maybe it is in the mountains or near an attraction that never seems to lose its interest. Wherever you imagine your second home to be, there are some very good reasons to keep your financial feet on the ground when thinking about buying it.
Vacation Home Financing: Similar to Your Primary Home but Different Purchasing Criteria
The mortgage financing process is familiar to all homeowners. But when you plan to buy a vacation (or second) home, things change a bit. From the real estate, financing, and tax standpoints, a second home is a very different purchase. You will need to be clear about many important distinctions regarding your primary residence and a vacation home.
First, let's assume that you are not buying your second home as an investment property. An investment property would be a dwelling whose chief function is to earn income—a rental property is the prime example. Such a property would require a commercial property loan, and brings with it specific tax consequences, as well.
A vacation home is one that you personally will live in for some portion of each year but will not be your primary residence (or it would, quite logically, be a first, and not a second home). In some cases, a lender may expect a vacation home to be at least 50 miles from your primary residence, too. With that in mind, and depending on where you are buying, you will want to research how many days your lender expects you to be in residence. (Your lender may, for example, expect you to be in your vacation home for a minimum number of days every year, depending on the other uses you plan for the home.)
Local ordinances may specify a minimum residency term to separate an investment property from a vacation property. For example, you might be required to stay in the home for 10 percent of the number of days you rent it to others*. A beach house, for example, may be rented for 150 days of the year, so you would then have to live in the house for at least 15 days each year. Also, you if you are thinking of offering your vacation home as a vacation rental, even for a few weeks a year, check for local impediments to that plan. Some areas are beginning to look at limiting short-term vacation rentals, such as Airbnb.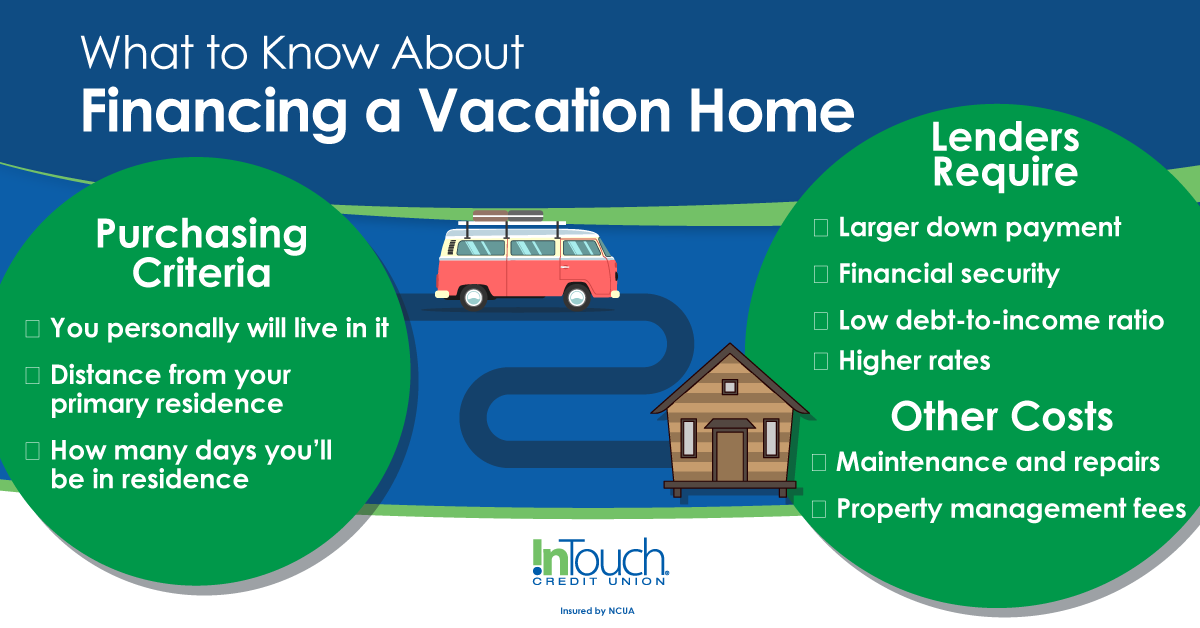 A Vacation Home Mortgage Loan Requires a Commitment
Applying for a mortgage for a second home or vacation residence is very much like applying for a primary mortgage. However, the part-time nature of your attachment to a vacation home usually requires that you make a substantial investment in your dream both upfront and on an ongoing basis.
While any mortgage is a secured loan, with the property as collateral, lenders are chiefly concerned with avoiding a financial loss. So, you will need to show that you are financially secure, that your income is very unlikely to shift downward, and that you carry a debt-to-income ratio low enough (generally < 25-36% ) to make a lender feel comfortable. Rates and down payment requirements are generally higher for second homes, as well.
Helpful Home Financing Related Articles

Be Prepared for Other Vacation Home Ownership Costs
Looking at your finances as you prepare to apply for vacation home financing is the perfect time to look at the costs of home ownership, as well. You will be the owner, so even if you do rent your vacation home for some of the year, the repairs and maintenance are yours. You may need to hire a management company to maintain the property while you are away (which could be as much as 90% of the year). And, those expenses are beyond the usual taxes, association fees, and insurance costs that homes routinely require to be paid by owners.
After adding up the estimated costs, if your vacation home is still calling you—and making a good case for itself—it is truly time to talk to an ITCU Mortgage Specialist. No one can help you put the financial side in perspective like a professional who has already been through the process many times. ITCU offers the benefit of financing mortgages around the nation and being invested in our members' success.